Have News?
Contact our PIO directly to share health news.

770.339.4260
Posted on May 8th, 2017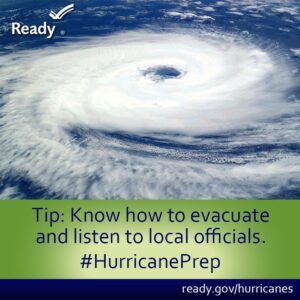 This week, May 7th – 13th, is your time to prepare for a potential land-falling tropical storm or hurricane. It only takes one storm to change your life and community. Tropical cyclones are among nature's most powerful and destructive phenomena. If you live in an area prone to tropical cyclones, you need to be prepared. Even areas well away from the coastline can be threatened by dangerous flooding, destructive winds, and tornadoes from these storms. Follow us on Twitter and Facebook to learn daily tips to prepare for hurricanes. Share these with your friends and family to ensure that they're prepared as well. Also be sure to download the FEMA app to receive safety alerts, tips, and easily find shelter when disaster strikes.
Sunday, May 7th – Determine your risk – Find out today what types of wind and water hazards could happen where you live, and then start preparing now for how to handle them.
Monday, May 8th – Develop an evacuation plan put an evacuation plan in writing for you and those you care about.
Tuesday, May 9th – Assemble disaster supplies— Have enough non-perishable food, water and medicine to last each person in your family a minimum of one week.
Wednesday, May 10th – Get an insurance check-up – Make sure you have enough homeowners insurance to repair or even replace your home, car, and boat.
Thursday, May 11th – Strengthen your home – Make your home is in good repair and up to local hurricane building code specifications
Friday, May 12th – Check on Your Neighbor – Many people rely on the assistance of neighbors before and after hurricanes.
Saturday, May 13th – Complete your written hurricane plan – Having a plan prepared, before a hurricane threatens, makes the difference between your being a hurricane victim and a hurricane survivor.
Helpful links
Information provided by FEMA and contributed by GNR Health Emergency Coordinator Antonia Williams.
Have News?
Contact our PIO directly to share health news.

770.339.4260