Have News?
Contact our PIO directly to share health news.

770.339.4260
Posted on October 11th, 2018
In the aftermath of Hurricane Michael, ensure that your food and water sources are safe for consumption and your home is safe from mold.
Food may not be safe to eat during and after an emergency.
Safe water for drinking, cooking, and personal hygiene includes bottled, boiled, or treated water.
Excess moisture can contribute to the growth of mold in homes. 
In order to help protect yourself and family from threats before, during, and after the hurricane, the CDC and FDA have developed materials on food & water safety.  Visit the links below for more information:
General Food Safety Guidelines from the CDC
Food Safety during Power Outages Video
Food & Water Safety After a Storm
Restaurants & Grocers Reopening After a Storm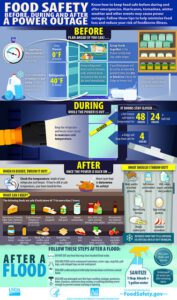 (click to enlarge)
Additional Safety Information:
Post Flood Food Service Establishments Fact Sheet
Disinfecting Private Wells After Flooding
FAQ After a Drinking Water Advisory
Getting Rid of Mold Post-Flood
Homeowners & Renters Guide to Mold Removal
Restaurants and Grocers Reopening After Hurricanes and Flooding
Have News?
Contact our PIO directly to share health news.

770.339.4260