Have News?
Contact our PIO directly to share health news.

770.339.4260
Posted on May 16th, 2017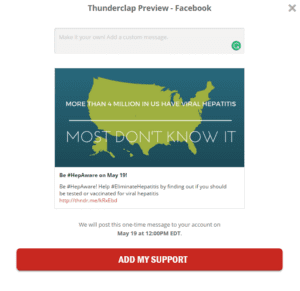 GNR Health takes social media to a whole new level. Ever heard of thunderclap? It's a new crowdsourcing platform that's been used by United Nations, the White House, and Beyoncé. It's an online tool that posts a social media message on behalf of you or your organization on a specific time and day—think hundreds of different individuals or organizations posting a similar message at the exact same time— that's a lot of people seeing the message.
This year the Centers of Disease Control & Prevention (CDC) is using Thunderclap to spread awareness and increase testing for Hepatitis. Join us on May 19th, 2017 at 12:00 PM EDT/9:00 AM PDT to support Hepatitis Awareness Month and Hepatitis Testing Day. Supporters can sign up in advance using their Twitter, Facebook or Tumblr accounts for a one time post that will automatically be sent on May 19th. Visit http://thndr.me/UtWAFY to sign up and help spread the word to your members and followers.
And more importantly, if you think that you or someone you love could have Hepatitis, please visit one of our centers to get tested. We also offer Hepatitis A or Hepatitis B vaccine to prevent it!
To learn more about Hepatitis and the populations it affects, check out the CDC's Hepatitis Resources website, follow GNR Health on Twitter and Facebook to see how we're supporting the CDC's Know More Hepatitis and Know Hepatitis B campaigns.
Helpful Links
Have News?
Contact our PIO directly to share health news.

770.339.4260