Contact Us
Buford Center : 770.614.2401
Lawrenceville Center : 770.339.4283
Norcross Center : 770.638.5700
Newton Center : 770.786.9086
Rockdale Center : 770.785.4345
Breastfeeding Support Groups
Make new friends and get help with breastfeeding.
Breastfeeding support groups bring together nursing mothers and lactation staff in an informal setting to share breastfeeding experiences and resolve any concerns. These support groups provide a comfortable environment to get help with breastfeeding and are a great place to make new friends and gain support from peers.
Groups are free to attend. No registration is required.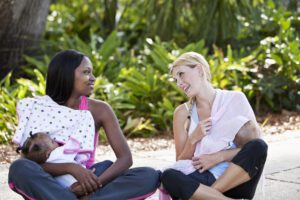 GNR Health has partnered with two hospitals to provide support to nursing moms.
---
Northside Gwinnett Breastfeeding Support Group
When: Every Monday, 11:00 AM – 12:00 PM
Where: Women's Pavilion, Azalea Room
Address: 1000 Medical Center Blvd., Lawrenceville, GA 30046
---
Piedmont Eastside Breastfeeding Support and Prenatal Education Group
When: First three Wednesdays of the month at 10 AM
Where: Piedmont Eastside – North Tower Conference Room, First Floor
Address: 1700 Medical Way, Snellville, GA 30078
---
Breastfeeding support groups are not held on holidays.
---
If you have questions about our breastfeeding support groups, email Kathryn Sanders or call the WIC call center 770-513-9738.
---
Learn more:
WIC Lactation Support and Breastfeeding Peer Counselors 
WIC Prenatal Breastfeeding Classes
Contact Us
Buford Center : 770.614.2401
Lawrenceville Center : 770.339.4283
Norcross Center : 770.638.5700
Newton Center : 770.786.9086
Rockdale Center : 770.785.4345