Contact Us
Buford Center : 770.614.2401
Lawrenceville Center : 770.339.4283
Norcross Center : 770.638.5700
Newton Center : 770.786.9086
Rockdale Center : 770.785.4345
Breastfeeding Support Groups
Breastfeeding support groups bring together nursing mothers and lactation staff in an informal setting to share breastfeeding experiences and resolve any concerns. These support groups provide a comfortable environment to get help with breastfeeding and is a great place to make new friends and gain support from peers.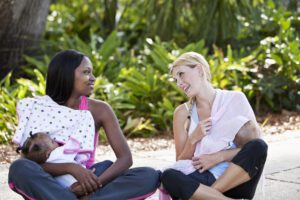 GNR Health has partnered with two hospitals to provide a breastfeeding support group in two of our counties:
Northside Gwinnett Breastfeeding Support Group
When: Every Monday, 11:00 AM – 12:00 PM
Where: Women's Pavilion, Azalea Room
Address: 1000 Medical Center Blvd., Lawrenceville, GA 30046
Contact: Dannah Burch, (678) 376-3215
---
Piedmont Rockdale Breastfeeding Support Group
Support group temporarily suspended due to COVID-19.
When: Last Wednesday of every month, 12:00 PM
Address: 1412 Milstead Ave. NE, Conyers, GA 30012
Contact: Desheila Harris, (770) 785-4345, ext. 723
---
Breastfeeding support groups are not held on holidays. If you are unsure whether a support group will take place on a specific day, please contact the support group contact.
Contact Us
Buford Center : 770.614.2401
Lawrenceville Center : 770.339.4283
Norcross Center : 770.638.5700
Newton Center : 770.786.9086
Rockdale Center : 770.785.4345