Contact Us
Buford Center : 770.614.2401
Lawrenceville Center : 770.339.4283
Norcross Center : 770.638.5700
Newton Center : 770.786.9086
Rockdale Center : 770.785.4345
WIC Lactation Support and Breastfeeding Peer Counselors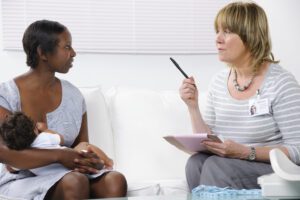 At each of our WIC locations, we have Certified Lactation Counselors and Breastfeeding Peer Counselors on staff to provide you with additional breastfeeding support prenatally and after you deliver your baby.
What is a Certified Lactation Counselor (CLC)?
CLC's are breastfeeding assistants who have taken the Lactation Counselor Training course and passed an exam. The CLC training course is a 45 hour course designed to provide up-to-date evidence based information regarding lactation and counseling.  CLC's are qualified to support normal breastfeeding and help with basic breastfeeding difficulties.
What is WIC Breastfeeding Peer Counselor?
A Breastfeeding Peer Counselor is a WIC Mom who lives in the community and has breastfeed her own baby.  Peer Counselors contact mothers during pregnancy to answer questions regarding infant feeding and can educate on how to get a good start with breastfeeding.  She continues to contact a mom after delivery, if desired, to answers any questions or concerns, as well as to provide motivation and encouragement. Our Peer Counselors are usually available after the normal 8-5 work day hours to be accessible to mothers who have breastfeeding questions or concerns.
How to contact a CLC or WIC Breastfeeding Peer Counselor?
Contact your local WIC clinic to make an appointment with a CLC or WIC Breastfeeding Peer Counselor.
Contact Us
Buford Center : 770.614.2401
Lawrenceville Center : 770.339.4283
Norcross Center : 770.638.5700
Newton Center : 770.786.9086
Rockdale Center : 770.785.4345