Have News?
Contact our PIO directly to share health news.

770.339.4260
Posted on August 29th, 2018
Wednesday, August 29 to Friday, August 31, 9 am – 1 pm, Gwinnett County Women, Infants, and Children (WIC) Supplemental Nutrition Program is hosting a farmer's market outside of the Lilburn Square WIC Center, located at 5342 Lawrenceville Hwy, Lilburn, GA 30047.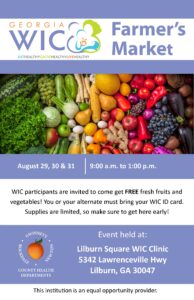 "The program gives our clients the chance to interact with local farmers and learn about wholesome eating," said Julie Alvarez, the manager of Lilburn WIC with the Gwinnett County Health Departments. "The produce available is Georgia-grown, so it gets to stay local and help families in need."
The farmer's market is just one way to keep the Lilburn community engaged with the WIC program. Recently, the Health Department announced that the Lilburn Square WIC Center would merge with the Norcross Health Center to better serve clients in the area. The Norcross Health Center has more space that can be utilized for the WIC program.
"We are excited about the move," said Alvarez. "It's only four miles away from our current location, and all the friendly faces our clients are used to will be moving to the new location – still servings our current clients while expanding our reach."
The farmer's market is open to all Gwinnett County WIC clients. Special WIC-certified farmer's market vouchers are printed for clients that bring their WIC ID, which gives participants access to free fruits and vegetables from local farmers.
Have News?
Contact our PIO directly to share health news.

770.339.4260