Have News?
Contact our PIO directly to share health news.

770.339.4260
Posted on April 24th, 2014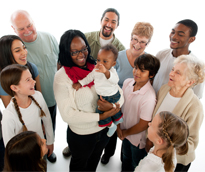 World Meningitis Day is recognized to raise awareness of meningitis and emphasize the importance of prevention.
Meningitis is a disease caused by the inflammation of the protective membranes covering the brain and spinal cord known as the meninges. The inflammation is usually caused by an infection of the fluid surrounding the brain and spinal cord.
Meningitis may develop in response to a number of causes, usually bacteria or viruses.
Bacterial Meningitis
Bacterial meningitis is caused by bacteria, like Neisseria meningitidis and Streptococcus pneumoniae. It can be a life-threatening infection that needs immediate medical attention.
The most effective way to protect you and your child against certain types of bacterial meningitis is to complete the recommended vaccine schedule. More information on bacterial meningitis is available on the CDC's website: http://www.cdc.gov/meningitis/bacterial.html
Viral Meningitis
Viral meningitis is often less severe than bacterial meningitis and usually resolves without specific treatment. Most viral meningitis cases in the United States, especially during the summer months, are caused by enteroviruses; however, only a small number of people with enterovirus infections actually develop meningitis.
There are no vaccines for the most common causes of viral meningitis. Thus, the best way to prevent viral meningitis is to prevent the spread of viral infections. Prevention measures include:
Wash your hands thoroughly and often, especially after changing diapers, using the toilet, or coughing or blowing your nose.
Disinfect frequently touched surfaces, such as doorknobs and the TV remote control.
Avoid kissing or sharing cups or eating utensils with sick people; avoid sharing with others when you are sick.
Make sure you and your child are vaccinated on schedule. Vaccinations included in the childhood vaccination schedule can protect children against some diseases that can lead to viral meningitis. These include vaccines against measles and mumps (MMR vaccine) and chickenpox (varicella-zoster vaccine).
Avoid bites from mosquitoes and other insects that carry diseases that can infect humans.
More information on viral meningitis is also available on the CDC's website: http://www.cdc.gov/meningitis/viral.html
Have News?
Contact our PIO directly to share health news.

770.339.4260