Have News?
Contact our PIO directly to share health news.

770.339.4260
Posted on November 2nd, 2012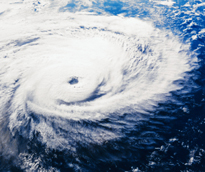 The recent "superstorm" that affected nearly 20 states in the eastern United States has been all over the news lately.  Here in Georgia, we escaped with barely a scratch.  But what if we had been impacted similarly to what happened in the Northeast?  Would you and your family have been ready?  Some say "That's not possible, especially here in metro Atlanta because we live so far from the sea."
While it is true we would not feel the impact of storm surge, there are plenty of other things that could make life very uncomfortable for an extended period of time.  We have had hurricanes move inland fast enough to bring hurricane force winds here.  We have had major floods, tornadoes, and ice storms here; we also must be mindful of the possibility of man-caused disasters.
Any of these has the potential to knock out power, transportation resources, supply lines, and more for an extended period of time.  I read that three days after the storm passed residents in New York were already complaining that it was taking "so long" to repair the infrastructure there.  Utility workers, first responders, health officials, and other government employees are not miracle workers.  I'm sure they are all doing the best they can.  But the fact is it takes time to recover from an event of this magnitude.
The bottom line is that each person and family should take actions to ensure that they are prepared to take care of themselves with no outside assistance for at least 72 hours, and with very limited assistance (and possibly no power!) for several more days.  If you know a major storm is coming – and the weather forecasts for this and most recent major storms have been right on target – you can plan ahead by filling your car up with gas, charging up your mobile devices, filling up the tub with fresh water, restocking food, batteries, water, medicine, blankets, etc.
An even better strategy is to have a family emergency plan written up and an emergency kit ready at all times, so even if an unexpected event occurs you are ready.  It won't cost a lot, and you can even stock it a little at a time to alleviate any financial burdens.  Below are some excellent websites that can help you get ready for any disaster, including some fun activities for your kids to get prepared.  Stay safe, and stay ready.
Mark Reiswig
Director of Emergency Preparedness
https://www.gnrhealth.com/hurricane-preparedness-week
http://www.ready.gov/build-a-kit
http://www.redcross.org/flash/brr/English-html/kit-contents.asp
Have News?
Contact our PIO directly to share health news.

770.339.4260