Have News?
Contact our PIO directly to share health news.

770.339.4260
Posted on October 22nd, 2021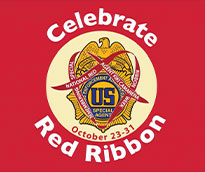 Celebrate Red Ribbon Week October 23 through October 31 by wearing red and spreading awareness of the fight against drug use.
What is Red Ribbon Week?
Red Ribbon Week is the nation's largest and longest-running drug-use prevention campaign. It began in 1985 in response to the murder of DEA Agent Enrique Camarena.
Enrique "Kiki" Camarena was a special agent who worked for the Drug Enforcement Administration and was kidnapped by drug traffickers in Guadalajara, Mexico. On Feb. 7, 1985, when the 37-year-old Camarena left his office to meet his wife for lunch, five men appeared at the agent's side and shoved him in a car. One month later, Camarena's body was found. He had been tortured to death. Shortly after Camarena's murder, community members began wearing red ribbons to honor the sacrifices made by Camarena and to show their commitment to leading drug-free lives.
Wear red during Red Ribbon Week, October 23-31, to show your support for the creation of a drug-free America and to honor Special Agent Kiki Camarena. To learn more about Red Ribbon Week, please visit www.redribbon.org.
Information gathered from www.redribbon.org/about
Have News?
Contact our PIO directly to share health news.

770.339.4260