Have News?
Contact our PIO directly to share health news.

770.339.4260
Posted on September 15th, 2021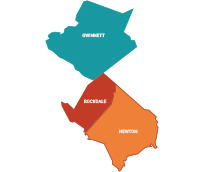 Gwinnett, Newton & Rockdale County Health Departments has released a new interactive community health dashboard: https://dashboards.mysidewalk.com/gnr-health
The website gives health district residents insights into the social and economic drivers of health, organized around social determinants of health. The Health Department works closely with community partners across the district to address these factors to improve health outcomes. The democratization of health data is meant to empower the community to learn about the status of community-wide efforts to protect and improve the health of Gwinnett, Newton and Rockdale counties. Such data is integral in supporting the outcomes set forth in the ongoing community health assessments and community health improvement plans developed in partnership between the Health Department, county coalitions and county medical partners.
"We are thrilled to provide this resource to our three counties," said Dr. Audrey Arona, district health director of Gwinnett, Newton & Rockdale County Health Departments. "We hope easier access to health data helps empower our officials, partners, and residents to address needs in our communities that can further improve healthy outcomes. Visualizing the data, as this website does, can help tell the story of how public health works to keep our communities healthy, protected, and prepared."
Data in the dashboard focuses not just on disease indicators like death rates and case counts, but also on the many factors that influence health, which include income, housing, education, and transportation. At no time in recent history has attention to the root causes of health been so critical. The COVID-19 pandemic has put a spotlight on Public Health; this comprehensive assessment takes the conversation beyond disease outcomes and explores the relationship between environments, behaviors, illness, and length of life.
This interactive dashboard gives the community access to health data indicators and allows residents to stay informed about what is happening in their county. Included are insights into social determinants of health, leading causes of death and disease and other public health threats. The graphs and maps are available for public download, and all the data is exportable in multiple formats.
Have News?
Contact our PIO directly to share health news.

770.339.4260