Have News?
Contact our PIO directly to share health news.

770.339.4260
Posted on October 26th, 2022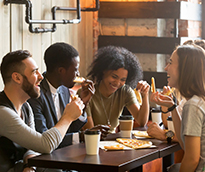 Appointments are full
GNR Public Health and Gwinnett County have partnered to increase COVID-19 vaccinations and booster uptake with a $100 gift card incentive. On Sunday, Nov. 13, 2022, from 12 pm to 5 pm, the vaccination site at Gwinnett Place Mall in the former Sears building will open for over 400 appointments for individuals five and older. Appointments are available on GNR Public Health's website. Any dose of the COVID-19 vaccine will qualify for the incentive, including the bivalent booster.
"Our priority is to get less vaccinated groups fully vaccinated," said Dr. Audrey Arona, district health director for GNR Public Health. "The COVID-19 vaccine is the best protection against the virus. For those who have put off getting the new bivalent booster, now is a great time to get that protection before families gather for the holidays."
GNR Public Health is working diligently to reach the Hispanic population with this latest event. According to the Georgia Department of Public Health, 46.7% of Hispanics have received at least one dose of the COVID-19 vaccine. In comparison, 68.6% of non-Hispanics have received at least one dose. While the agency is working to reach Hispanic families, the vaccine event is open to everyone.
"Our goal is to make this vaccine as accessible as possible," Arona said. "We're working with our partners to encourage the vaccine and booster uptake to keep families safe and individuals healthy so they can continue to work and care for their families. We're hoping with this event that the County's generous incentive can also nudge individuals to decide to get vaccinated."
The vaccine and bivalent boosters are at no cost to individuals, even without insurance. No documentation is required to get the vaccine. Individuals under 18 must be accompanied by a parent or legal guardian to receive the vaccine.
Gwinnett County has provided the gift cards, and every appointment is guaranteed a gift card. Appointments were available online and were filled on Oct. 29. Incentive event location address: 2100 Pleasant Hill Rd, Duluth, GA 30096.
Have News?
Contact our PIO directly to share health news.

770.339.4260