Have News?
Contact our PIO directly to share health news.

770.339.4260
Posted on March 17th, 2021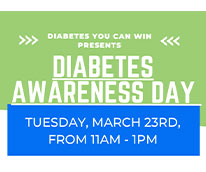 This year Gwinnett, Newton and Rockdale County Health Departments along with our partner, Diabetes You Can Win Foundation Inc., is helping the community become aware of their diabetes risk by hosting two local events on Diabetes Awareness Day (formerly Diabetes Alert Day) March 23.
Diabetes is a leading cause of death in Georgia and the United States. Approximately 1 in 10 Georgia adults has diabetes. As of 2018, over 9% of Hispanics, 12% of whites and over 15% of blacks have the disease. Risk for developing diabetes increases with lower education levels and lower incomes.
Currently, diabetes affects about 34.2 million Americans or about 10.5 percent of the U.S. population. Nearly 1 in 5 adults living with diabetes, or 7.3 million Americans, are unaware that they have the disease. More than 84 percent of people living with prediabetes don't even know they have it!
Diabetes is a serious disease. When left untreated, individuals are at increased risk for damage to organs such as the heart, eyes, kidneys, and feet. Typically, there are no symptoms of diabetes until significant damage is already done, but for the majority of people, there are steps that can be taken to prevent or delay developing the disease when they know they are at risk!
You can understand your risk for developing diabetes online, or for more information and healthy life-style tips, join us March 23 in-person or virtually:
Lenora Park Community Garden 11 a.m.
Join us on Facebook Live or on-site for a socially distanced, outdoor event from the Community Garden, located at 3195 Lee Road in Snellville. Learn to grow food, reduce your risk for diabetes and, if you're inclined, workout with us!
Norcross Health Center 12 p.m.
The health center, located at 5030 Georgia Belle Court in Norcross, will offer no cost blood sugar and blood pressure screening starting at 12PM. Join us on Facebook Live to chat about diabetes and learn what you can do to reduce your risk for developing it.
Participate in both events on Facebook Live at www.facebook.com/DiabetesYouCanWinFoundationInc.
If you can't make our events, we encourage you to take a simple and anonymous one-minute test to find out if you are at risk for developing Type 2 diabetes. You'll answer questions such as, "Do you have a family history of diabetes?" and "Are you physically active?" to learn your diabetes risk in 60 seconds. It's that simple.
Learn more about this disease, how to prevent it, and how to fight back to help transform your life at www.diabetes.org/diabetes-risk.
We hope you'll join us by discovering your Type 2 diabetes risk this year for Awareness Day, and help others do the same.
Learn more about the no cost diabetes prevention and education programs offered by the health department.
Can't make our event? Get screened at our health centers!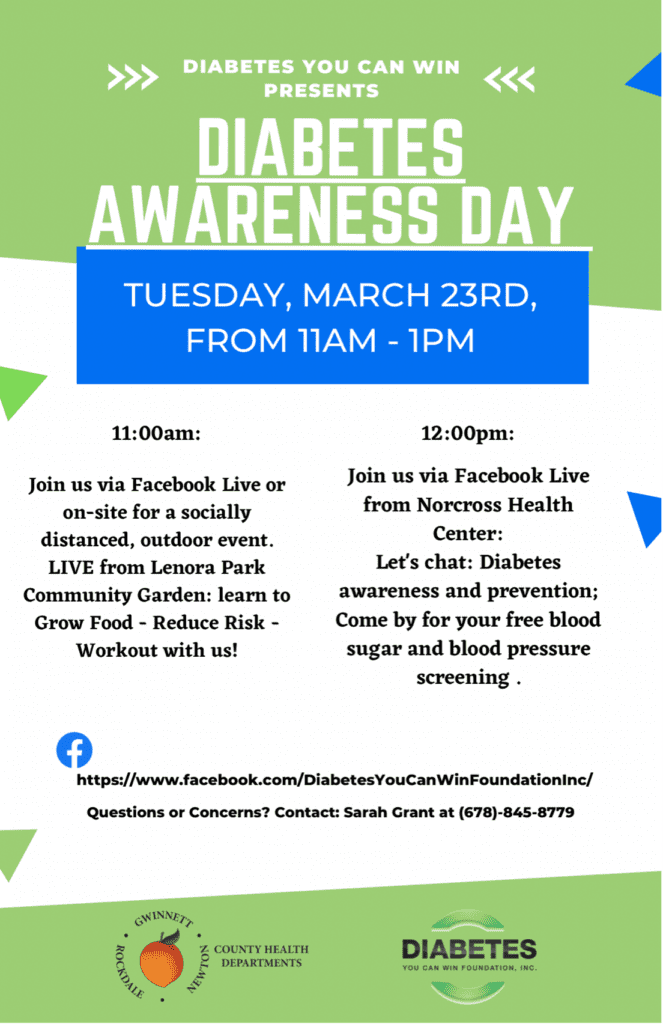 Have News?
Contact our PIO directly to share health news.

770.339.4260