Have News?
Contact our PIO directly to share health news.

770.339.4260
Posted on February 17th, 2022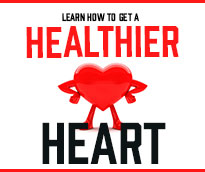 Celebrate American Heart Month: Join the #OurHearts Movement
Did you know that people who have close relationships at home, work, or in their community tend to be healthier and live longer? One reason, according to the National Heart, Lung, and Blood Institute (NHLBI), is that we're more successful at meeting our health goals when we work on them with others. NHLBI launched the #OurHearts movement to inspire us to protect and strengthen our hearts with the support of others.
Here are some facts, how-to tips, and resources to inspire you to join with others, even if you can't be physically together, to improve your heart health.
Heart disease is a leading cause of death for both men and women in the United States. Most middle-aged and young adults have one or more risk factors for heart disease, such as diabetes, high blood pressure, high cholesterol, or being a smoker or overweight. Having multiple risk factors increases your risk for heart disease.
Why Connecting is Good for Your Heart
Feeling connected with others and having positive, close relationships benefit our overall health, including our blood pressure and weight. Having people in our lives who motivate and care for us helps, as do feelings of closeness and companionship.
Follow these heart-healthy lifestyle tips to protect your heart. It will be easier and more successful if you work on them with others, including by texting or phone calls if needed.
Be more physically active.
Maintain a healthy weight.
Eat a nutritious diet.
Quit smoking.
Reduce stress.
Get 7-8 hours of quality sleep.
Track your heart health stats.
You don't have to make big changes all at once. Small steps will get you where you want to go.
Gwinnett, Newton and Rockdale County Health Department is pleased to announce it's partnership with YMCA Atlanta to bring heart health to our counties.
This free program aims to help its participants reduce and manage blood pressure through education about healthy eating habits and triggers that elevate blood pressure.
Participants will meet with a Health Heart Ambassador for brief 10-minute meetings, twice per week for 4-months.
Individuals need to meet the follow qualifications to take part:
Be at least 18 years old
Be diagnosed with high blood pressure
Not have experienced a recent cardiac event
Not have atrial fibrillation or other arrhythmias
Not be at risk for lymphedema
If you are interested in taking steps toward improving your heart health, email sabrinar@ymcaatlanta.org for more information.
The Health Department continues to seek out ways to make the prevention and management of chronic diseases accessible for all of our community members.
There will be an information session on Wednesday, March 2 from 12:00 p.m. to 12:30 p.m. Interested individuals should email sabrinar@ymcaatlanta.org to receive the meeting link.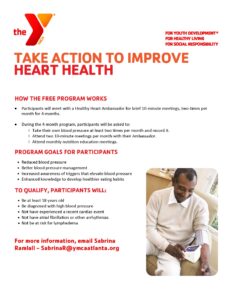 Have News?
Contact our PIO directly to share health news.

770.339.4260