Have News?
Contact our PIO directly to share health news.

770.339.4260
Posted on November 16th, 2020
Gwinnett Cares is hosting a must-see online healthcare summit designed to help the Gwinnett community coexist with COVID-19 on November 18 at 8 a.m. Get fact-based information from top healthcare experts and connect to real-time resources available across Gwinnett.
Learn what we know about the virus to date, top concerns and what to expect when a vaccine becomes available from Dr. Clifford McDonald, the Center for Disease Control's Senior Advisor for Science & Integrity.
Dr. Audrey Arona, District Health Director for Gwinnett, Newton and Rockdale County Health Departments, will give a community based update and provide the latest prevention and mitigation efforts and testing information. She will also discuss preparations for a potential surge in COVID-19 cases, vaccination planning and the health department's healthcare concerns for the months ahead.
You will learn about COVID fatigue and how to stay mentally and emotionally healthy during these difficult times from Jennifer Hibbard, View Point Health CEO. You will also be briefed on the state of mental healthcare in Gwinnett and receive helpful tips on how to coexist with COVID responsibly and advice on what to do if you or someone in your family is in crisis.
Experts from Navigate Recovery will provide helpful tips and resources specifically for those in our community coping with addition. You will hear a powerful personal testimony from a family that has been directly impacted by COVID -19 to help remind us all why it is so important to remain vigilant in our prevention efforts.
This healthcare summit will occur online via Zoom and Facebook Live. The Zoom link will be shared with registered participants a few days before the event. Event can be viewed on Facebook @GwinnettCares.org.
Register today at https://bit.ly/3okC8Y8. It's free and open to everyone to attend.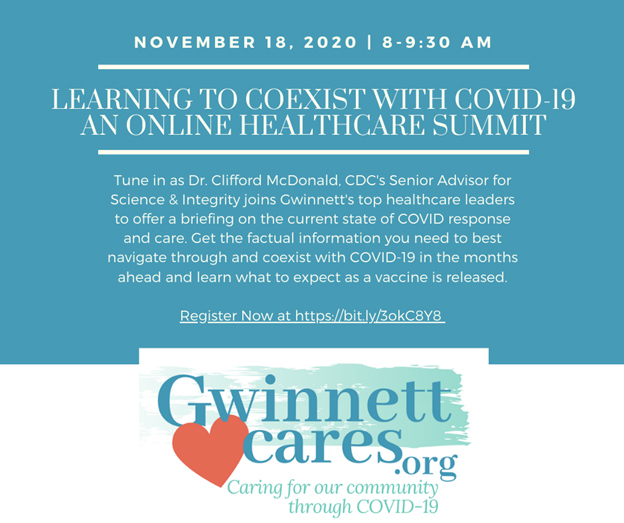 Have News?
Contact our PIO directly to share health news.

770.339.4260