Have News?
Contact our PIO directly to share health news.

770.339.4260
Posted on July 22nd, 2021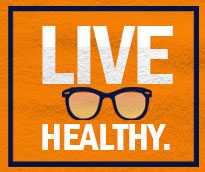 The keys to achieving and maintaining a healthy lifestyle are healthy eating, regular physical activity, and staying away from (or saying goodbye to) tobacco and nicotine products.
Sometimes the hardest part of achieving a healthier lifestyle is getting started! Many people try to make too many changes at the same time – they join a gym, insist on eating only salads, quit smoking "cold-turkey" – only to give up. That is a lot of pressure for anyone to take on when small, manageable changes instead can really payoff, giving you a better chance of continuing.
If you are ready to live a healthier life, try to make some of the small changes listed below. When applied, these tips can make a big difference in your health!
Make healthy foods part of your day-to-day eating routine.
Add sides of veggies or fruits to your meals so you can ingest more vitamins and minerals.
Eat whole grains. Find a whole grain sub you like, stick to brown rice, whole-wheat bread, or whole-grain pasta. You do not have to switch to 100% whole grains right away, either! At first, just aim for 50% of your grains to be from whole grains. Remember, small changes can make a difference.
Trade out whole milk, cheese, or yogurt for low- or no-fat options when you can.
Try a "Meatless Monday" to explore non-meat protein options, like beans, grains, seeds, or soy. Reducing your meat consumption actually helps reduce the fat in your diet!
For more healthy eating tips, visit www.myplate.gov.
Get moving.
Just a little activity can make a big difference, and it does not have to be boring!
Dance, play basketball, garden, or walk. Find the activity that works best for you to get your body moving.
Aim for about 30 minutes of physical activity each day at least five days per week. Those 30 minutes can also be broken into smaller chunks, if that works better for you!
Learn how to incorporate physical activity in to your day at https://health.gov/moveyourway.
Don't start using tobacco or nicotine products, or if you do, make a plan to quit!
Smoking is linked to lung and other cancers. Vaping can lead to lasting lung damage. If you don't use tobacco or nicotine products, don't start. If you do, consider stopping them all together.
Not only is using tobacco or nicotine products of any kind–smoking, vaping, hookah, chewing tobacco, pouches–harmful; it is extremely addictive and expensive! Read about the Cost of Vaping and Cost of Smoking! You will be surprised just how expensive it is.
Want to quit? Call the Tobacco Quit Line 1-877-270-STOP (877-270-7876) for support. You can do it!
Little changes can go a long way to ensure you live a healthy life. Take your first step! We believe in you, and we're here for you.
The Community Health division of the Gwinnett, Newton and Rockdale County Health Departments is committed to educating our community about healthy living. We offer diabetes prevention and education classes, nutrition education classes and more.
Have News?
Contact our PIO directly to share health news.

770.339.4260