Have News?
Contact our PIO directly to share health news.

770.339.4260
Posted on February 17th, 2023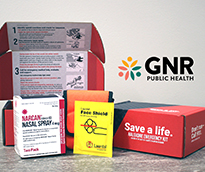 We're here to help address the opioid crisis in our communities. We need to flood our community with Narcan (naloxone). Our health centers have life-saving kits available to anyone over 18 at no cost. Walk in and ask our staff how you can get one.
Kits come with two doses of naloxone, a pouch to carry the doses in a bag safely, a CPR face shield, and education about administering naloxone, the medical amnesty law, and information about recovery and treatment.
Do I need to carry naloxone?
Think of carrying naloxone similar to knowing how to do CPR. You may not expect that anyone around you will suddenly need CPR, but the skill can be lifesaving. Similarly, you may not think you're around individuals who are at risk of an overdose, but having naloxone on hand can save a life should you encounter an overdose situation.
How will I know what to do?
Our staff is trained to teach you what to look for and how to administer naloxone properly. When providing you with your kit, they will review the instructions for giving naloxone doses, which are printed inside the kit.
What does naloxone do?
Naloxone reverses an opioid overdose, buying precious minutes for first responders to arrive to administer medical aid. It is still paramount to call 911 when administering naloxone.
Where can I get one of the kits?
Currently, these kits are available at our health centers:
Lawrenceville Health Center – 455 Grayson Hwy, Suite 300, Lawrenceville, GA 30046
Norcross Health Center – 5030 Georgia Belle Court, Norcross, GA 30093
Newton Health Center – 8203 Hazelbrand Rd, Covington, GA 30014
Rockdale Health Center – 985 Taylor St, Conyers, GA 30012
In the news …
Check out the news story from 11Alive.
Check out the news story from Gwinnett Daily Post.
Have News?
Contact our PIO directly to share health news.

770.339.4260