Have News?
Contact our PIO directly to share health news.

770.339.4260
Posted on September 11th, 2015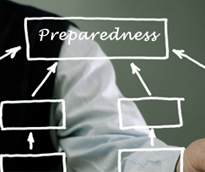 September is National Preparedness Month, a good time to assess how ready we are for emergencies such as natural disasters.  Many people ask themselves "Why should I be prepared? Won't someone come to help me?"   Help will come – but depending on the nature of the event, it may take some time.
The value of preparedness is in making sure you and your family members have the things you need when normal services break down.  This can happen suddenly and dramatically – with a hurricane, a tornado or an ice storm.
What should you have ready in case of an emergency?  You may become bogged down in your planning, but don't get stuck worrying about getting the "right stuff" into your kit.  Here are two things to remember:
Something is better than nothing
Knowing what to stock is as simple as thinking about what you would need if you were stranded for three or more days
A good place to start is with these 10 items:
| | |
| --- | --- |
| 1.    Water | 6.     Flashlight |
| 2.    Food | 7.     Radio |
| 3.    Can Opener | 8.     Clothes |
| 4.    Medications | 9.     Personal Care Items |
| 5.    First Aid | 10.   Important Documents (including cash) |
Check what our Health Department Emergency Preparedness Team has to say about planning for local emergencies.  They also give tips on how to help your family prepare for an emergency and creating a simple emergency kit for your car.
And while you're thinking about preparing for emergencies – don't forget the kids.  Sesame Workshop, along with its project partners, created Let's Get Ready! Planning Together for Emergencies.  Featuring beloved characters from Sesame Street, this website helps children learn how to be prepared in an emergency situation.  Click here for more information.
Additional resources to help prepare for an emergency:
CDC:  http://www.bt.cdc.gov/preparedness/
FEMA:  http://www.ready.gov
GEMA:  http://www.ready.ga.gov/
Red Cross:  http://www.redcross.org/prepare
Have News?
Contact our PIO directly to share health news.

770.339.4260