Have News?
Contact our PIO directly to share health news.

770.339.4260
Posted on November 23rd, 2020
Join us December 1 at Rhodes Jordan Park
This World AIDS Day, we'll be at Rhodes Jordan Park in Lawrenceville on December 1 from 10 a.m. until 2 p.m. to educate the community about HIV prevention and to offer free testing and give-a-ways. If you can't make it, HIV testing is always free at our health centers.
Individuals can learn how to protect themselves and others from HIV/AIDS if they know the facts.
In 2019, there were 38 million people living with HIV – 36.2 million adults and 1.8 million children 14 years and younger. Only 81% of all people living with HIV know they have it, which means about 7.1 million people do not know they have it.
Youth aged 13 to 24 made up 21% of the 37,832 new HIV diagnoses in the United States (US) and dependent areas in 2018!
There is a lot everyone can do to help prevent HIV infections and help those living with HIV in our community:
Get correct information on HIV/AIDS
Talk openly about HIV to help end HIV stigma
We work to help end the HIV/AIDS epidemic year round by offering community education, free HIV testing, PrEP for HIV Prevention and condom subscription services to residents of our three counties who are 16 years old or older.
If you'd like more information about our HIV program or would like to get tested or start PrEP, give our HIV program manager a call today at 678-442-6897 Ext. 135.
Doing It — Reasons Why You Should Get Tested for HIV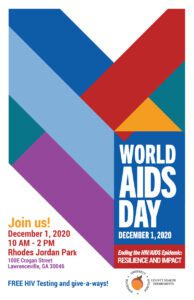 Have News?
Contact our PIO directly to share health news.

770.339.4260