Contact Us
District Office : 770.339.4260
Buford Center : 770.614.2401
Lawrenceville Center : 770.339.4283
Norcross Center : 770.638.5700
Newton Center : 770.786.9086
Rockdale Center : 770.785.4345
Preventive Health : 678.442.6880
CMS : 770.339.4270
Gwinnett Environmental : 770.963.5132
Newton Environmental : 770.784.2121
Rockdale Environmental : 770.278.7340
About Public Health
Public health addresses threats to the overall health of a community based on population health analysis. Health is defined and promoted differently by many organizations. The World Health Organization, the United Nations body that sets standards and provides global surveillance of disease, defines health as: "A state of complete physical, mental and social well-being and not merely the absence of disease or infirmity."
The population in question can be as big as a handful of people or, in the case of an influenza pandemic, whole continents. Public health has many sub-fields, but is typically divided into the population-based categories of Epidemiology and Environmental Health, and the individual- assistance category of direct Health Services.
Public Health's Core Functions
Assessment
Monitor health status to identify community health problems.
Diagnose and investigate health problems and health hazards in the community.
Evaluate effectiveness, accessibility, and quality of personal and population-based health services.
Policy Department
Develop policies and plans that support individual and community health efforts.
Enforce laws and regulations that protect health and ensure safety.
Research for new insights and innovative solutions to health problems.
Assurance
Link people to needed personal health services and assure the provision of health care when otherwise unavailable.
Assure a competent public health and personal health care workforce.
Inform, educate, and empower people about health issues.
Mobilize community partnerships to identify and solve health problems.
Funding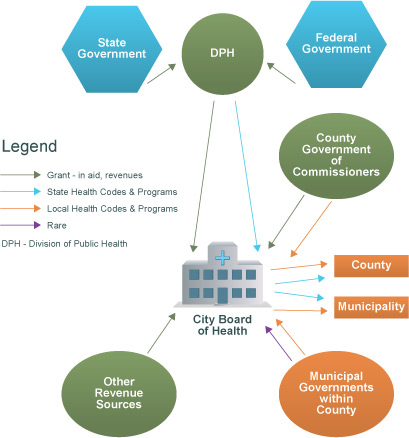 Contact Us
District Office : 770.339.4260
Buford Center : 770.614.2401
Lawrenceville Center : 770.339.4283
Norcross Center : 770.638.5700
Newton Center : 770.786.9086
Rockdale Center : 770.785.4345
Preventive Health : 678.442.6880
CMS : 770.339.4270
Gwinnett Environmental : 770.963.5132
Newton Environmental : 770.784.2121
Rockdale Environmental : 770.278.7340