Contact Us
District Office : 770.339.4260
Buford Center : 770.614.2401
Lawrenceville Center : 770.339.4283
Norcross Center : 770.638.5700
Newton Center : 770.786.9086
Rockdale Center : 770.785.4345
Preventive Health : 678.442.6880
CMS : 770.339.4270
Gwinnett Environmental : 770.963.5132
Newton Environmental : 770.784.2121
Rockdale Environmental : 770.278.7340
Prescription Opioid Overdose Prevention
Looking for help?
For access to services and immediate crisis help, call the Georgia Crisis & Access Line (GCAL) at 1-800-715-4225, available 24/7.
Looking for a treatment center near you?
Check the Behavioral Health Treatment Services Locator, a confidential and anonymous source of information for persons seeking treatment facilities in the United States or U.S. Territories for substance use/addiction and/or mental health problems.
The Health Department is committed to preventing opioid overdose. Get the facts, learn the signs of an overdose, and learn what you can do to prevent a prescription opioid overdose.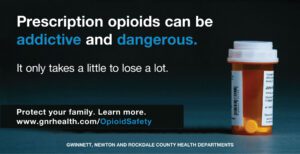 Some people might think prescription opioids are safer than alcohol or illegal drugs, but the truth is they carry serious risks and side effects, including addiction and overdose.
If you or someone you know has been prescribed opioids like oxycodone (OxyContin), hydrocodone (Vicodin), morphine, or methadone, it is important to learn as much as you can about the risks. The CDC recommends that individuals work closely with their doctors when taking opioid medications to avoid the serious risks and side effects associated with them.
NARCAN® Nasal Spray can help reverse an opioid overdose.
NARCAN® (naloxone HCl) Nasal Spray counteracts the life-threatening effects of an opioid overdose. NARCAN® was developed for first responders, as well as family, friends, and caregivers—with no medical training required. It is available without a prescription from a doctor and is covered by most insurance plans.
Looking for NARCAN® & FREE training?
Gwinnett –
Navigate Recovery offers training every second and fourth Saturday of the month at 10:00 a.m. – 11:00 a.m.
Safe Harbor, 52 Gwinnett Drive, Lawrenceville, GA 30046
Call 678-743-1808 EXT 115 with questions.
Click here to sign up for training.
Newton – 
Newton County Drug Free Community Coalition offers monthly training events.
Call 770-786-0807 or email connect@nwtnfamilyconnection.org to sign up for training.
Rockdale – 
Rockdale Drug-Free Community Coalition offers monthly training events.
625 Promise Path, Conyers, GA 30012
Call 770-761-9244 for more information and to sign up for training.
Click here to see if you qualify for a FREE NARCAN® Nasal Spray rescue kit from Georgia Overdose Prevention.
Addiction Treatment Services
The Health Department does not offer addiction treatment services. Please visit findtreatment.gov.
For more information about opioids keep reading:
---
---
Contact Us
District Office : 770.339.4260
Buford Center : 770.614.2401
Lawrenceville Center : 770.339.4283
Norcross Center : 770.638.5700
Newton Center : 770.786.9086
Rockdale Center : 770.785.4345
Preventive Health : 678.442.6880
CMS : 770.339.4270
Gwinnett Environmental : 770.963.5132
Newton Environmental : 770.784.2121
Rockdale Environmental : 770.278.7340