GNR Health Alert Network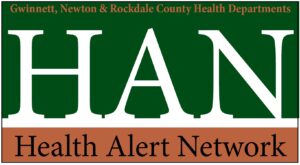 GNR's Health Alert Network (HAN) is the primary method of sharing urgent public health information that affects our District (Gwinnett, Newton, and Rockdale). This information is intended for our community, regional, and state partners.
GNR's HAN collaborates with state, territorial, and city/county partners to develop protocols and stakeholder relationships that will ensure a robust platform for the rapid distribution of public health information.
---
Latest News from Health Alert Network
Health Alert: DPH confirms a case of measles in a Metro Atlanta resident 11-09-2019
---
HAN Message Types