Emergency Preparedness
The Emergency Preparedness department plans for and responds to various forms of disasters that affect the community's health.  The emergency may be a natural disaster (e.g. flood), a man-made accident (e.g. train wreck involving a chemical spill), a disease epidemic or pandemic, or an intentional act of terrorism involving chemical, biological, or radiological devices.
Emergency Preparedness staff work closely with local, state and federal partners such as the CDC, FEMA, GEMA, State Department of Public Health, local EMAs, fire, EMS, police, hospitals, and volunteer groups such as the Medical Reserve Corps to assess community vulnerabilities and to respond accordingly.
Activities include participation in training exercises that simulate potential events to practice our response to them, working with hospitals to develop contingency plans for mass casualty patient surge situations, mass vaccination operations (e.g. H1N1), emergency shelter operations, community education, and more.
---
Our Local Medical Reserve Corps (MRC GEM)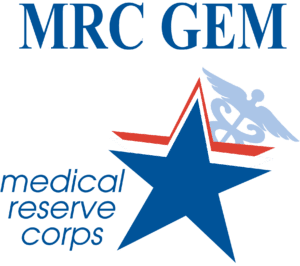 Everyone is welcome to join MRC GEM. Members come from all walks of life, including the medical and health professions. There is no minimum commitment, though one must complete the basic training requirements to respond in an emergency.

Goals for members are:
Learn and practice how to be safe and secure in times of disaster.
Learn to extend that safety and security to your loved ones.
Learn and practice how to be safe when helping others.
Learn and practice how to effectively help others.
If you achieve only the first of these goals, you are well on your way to becoming an empowered citizen. By learning to take care of yourself, you are one less person the first responders need to care for.
---
Helpful Links