Blood Pressure Management
Heart disease is the leading cause of death in Georgia and in the U.S., and Georgia ranks seventh in the nation for stroke deaths each year, too. Keeping your blood pressure in normal range, under 120/80 for most people, is crucial to preventing heart disease.
The health department works with community partners to bring you programs to help you maintain heart health and control your blood pressure.
Fit4Us Virtual Fitness Classes
Fit4Us offers virtual fitness classes Mondays at 6:30 p.m., Tuesdays at 10:00 a.m., and Thursdays at 10:00 a.m and 6:30 p.m.!
Text 678-362-1271 to receive the Zoom class link.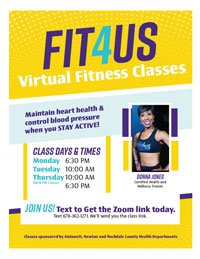 GNR Public Health's Healthy Heart Ambassador Program
GNR Public Health is launching our Healthy Heart Ambassador (HHA) program to bring heart health education to the community!
This free program aims to help its participants reduce and manage blood pressure through education about healthy eating habits and triggers that elevate blood pressure.
Participants will meet with a Health Heart Ambassador for brief 10-minute meetings, twice per month for 4 months.
Individuals need to meet the following qualifications to take part:
Be at least 18 years old
Be diagnosed with high blood pressure
Not have experienced a recent cardiac event
Not have atrial fibrillation or other arrhythmias
Not be at risk for lymphedema
If you are interested in taking steps toward improving your heart health but have questions, email sarah.grant@gnrhealth.com for more information.