Additional Vaccination Information
COVID-19 Vaccine Information
Looking to make a vaccine appointment? Click here!
COVID-19 vaccines have passed rigorous reviews and are highly effective. ​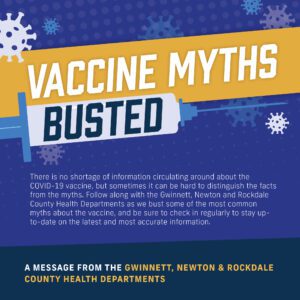 Scientists had a significant head start developing the COVID-19 vaccines. COVID-19 is very similar to other viruses, which already have vaccines.
Testing was thorough and successful. More than 70,000 people participated in clinical trials for the two vaccines to see if they are safe and effective. To date, the vaccines are nearly 95% effective in preventing COVID-19.
There is no COVID-19 virus in the vaccine. The vaccine imitates the infection so that our bodies create antibody defenses to fight off COVID-19.
Side effects are mild, temporary, and normal signs that your body is building protection. You may experience pain and swelling in the arm of the injection. Throughout the rest of your body, you may experience fever, chills, tiredness, and headaches.
Learn the facts about some of the most common myths about the vaccine.
What does efficacy really mean when it comes to the COVID-19 vaccine?
Questions about COVID vaccines not answered here? Call the GA COVID-19 Vaccine Hotline —
(888) 357-0169.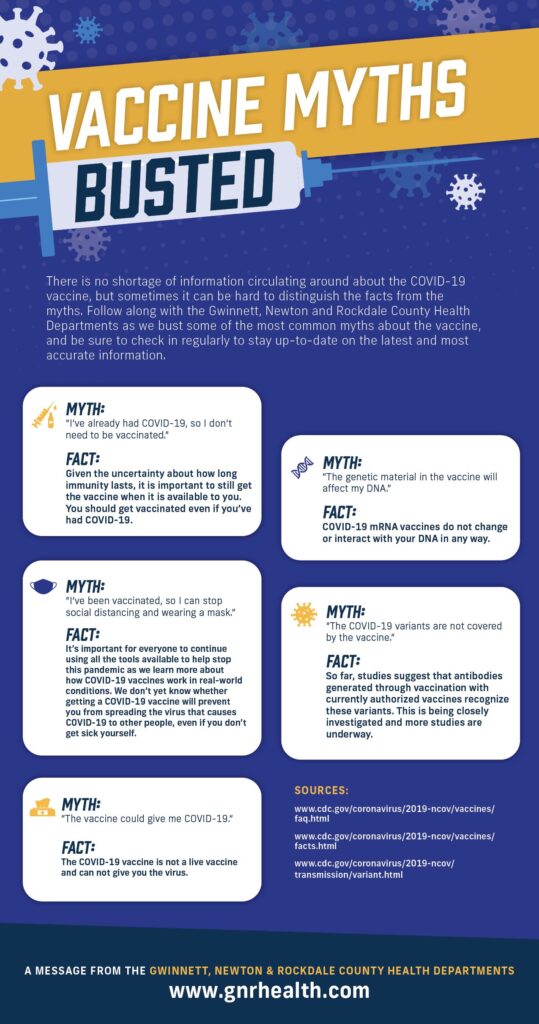 HCP Vaccination Resources
BASELINE VACCINE EDUCATION:
PHASED ALLOCATION of COVID-19 VACCINES:
GETTING STARTED:
WHY Tier1a SHOULD RECEIVE THE VACCINE:
PROVIDER SPECIFIC EDUCATION:
PFIZER:
MODERNA:
AFTER THE VACCINE:
SPECIAL POPULATION CONSIDERATIONS:
BILLING INFORMATION:
Additional Vaccination Information