Additional Vaccination Information
COVID-19 Vaccine Information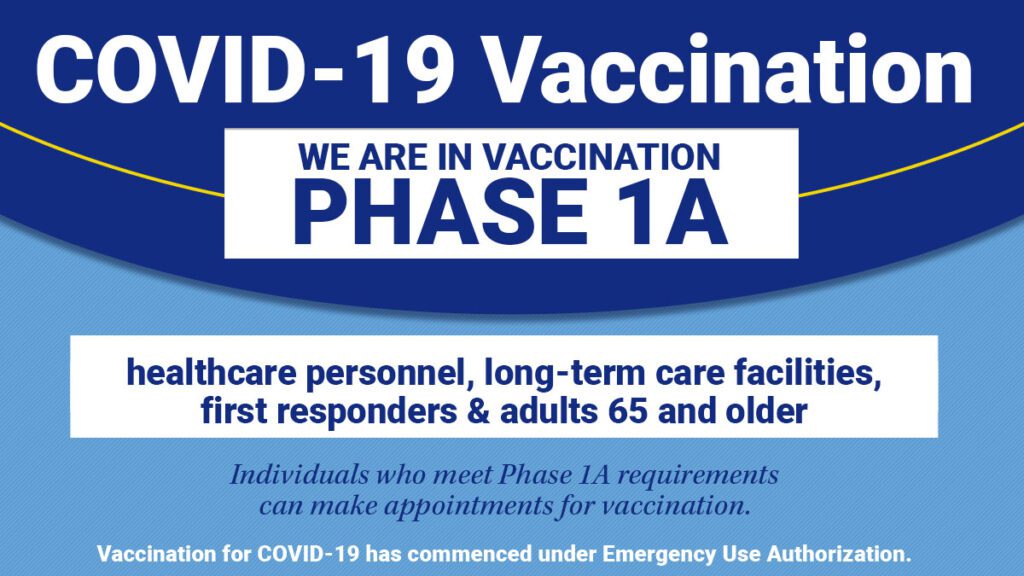 Individuals in Phase 1A can schedule vaccinations now.
Phase 1A includes healthcare personnel, residents of long-term care facilities, first responders (law enforcement, firefighters and EMS), and adults 65 and older (and their caregivers as applicable). Individuals must live or work in Georgia.
Vaccine is in high demand and limited in quantity. Vaccine availability is the limiting factor for making appointments in the short term while vaccine providers across the state (i.e. health departments, hospitals, physicians offices, pharmacies, etc.) await their order allocations.
The Health Department is releasing appointments only for the amount of vaccine currently in stock. If there are no appointments available, that means we have scheduled appointments to exhaust our supply of vaccine. We will not release additional appointments until we have received more doses of vaccine to ensure we can meet demand. Thank you for your patience.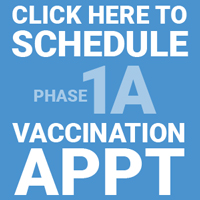 View other vaccine options available in our communities.

Vaccine Information
COVID-19 vaccines have passed rigorous reviews and are highly effective. ​
Scientists had a significant head start developing the COVID-19 vaccines. COVID-19 is very similar to other viruses, which already have vaccines.
Testing was thorough and successful. More than 70,000 people participated in clinical trials for the two vaccines to see if they are safe and effective. To date, the vaccines are nearly 95% effective in preventing COVID-19.
There is no COVID-19 virus in the vaccine. The vaccine imitates the infection so that our bodies create antibody defenses to fight off COVID-19.
Side effects are mild, temporary, and normal signs that your body is building protection. You may experience pain and swelling in the arm of the injection. Throughout the rest of your body, you may experience fever, chills, tiredness, and headaches.
Questions about COVID vaccines not answered here? Call the GA COVID-19 Vaccine Hotline —
(888) 357-0169.
Vaccine Phase Information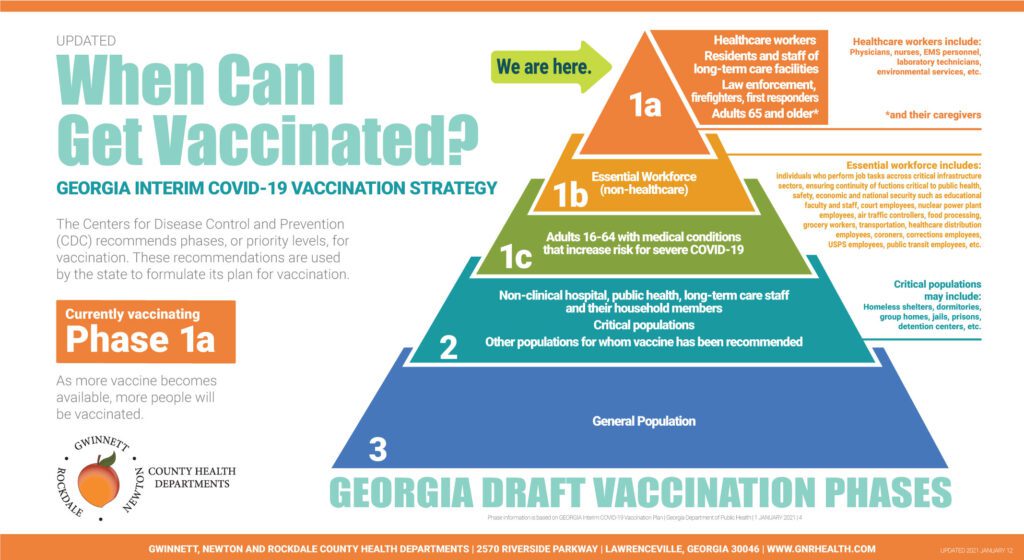 We are currently in Phase 1: Limited COVID-19 Vaccine Availability
Phase 1A
Phase 1A will include paid and unpaid persons serving in a healthcare setting who have the potential for direct or indirect exposure to patients or infectious materials. Hospital staff, public health clinical staff, EMS, first responders, long term care facility staff, urgent care facility staff, and adults 65 and older (and their caregivers as applicable) are included in this phase.
Additional examples include:
Staff in clinical settings (e.g., physicians, nurses, pharmacists, EMS, laboratory staff, environmental services, long-term care staff etc.)
Law enforcement officers, firefights, and other first responders
Long-term care residents
Phase 1B
Phase 1B will include other essential workers (non-healthcare)
Examples of people that will be included in this Phase are listed below:
Police and fire personnel not covered under Phase 1A
Critical workforce employees (e.g., pharmacy staff, educational faculty and staff, correctional facility staff, court employees, food processors, grocery store workers, transportation staff, nuclear power plant employees, air traffic controllers, etc.)
Phase 1C
Phase 1C will include people 16-64 years of age at higher risk of severe COVID-19 illness, not vaccinated during Phase 1A or Phase 1B.
HCP Vaccination Resources
BASELINE VACCINE EDUCATION:
PHASED ALLOCATION of COVID-19 VACCINES:
GETTING STARTED:
WHY Tier1a SHOULD RECEIVE THE VACCINE:
PROVIDER SPECIFIC EDUCATION:
PFIZER:
MODERNA:
AFTER THE VACCINE:
VSAFE – After Vaccine Health Checker
SPECIAL POPULATION CONSIDERATIONS:
BILLING INFORMATION:
Additional Vaccination Information