Have News?
Contact our PIO directly to share health news.

770.339.4260
Posted on August 1st, 2014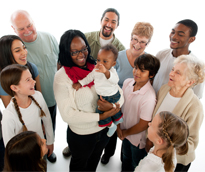 Infants and Children
Vaccines today protect against serious and potentially life-threatening diseases, including polio, measles, whooping cough and chickenpox.
There are many important reasons to make sure your child is vaccinated:
Immunizations can save your child's life.
Vaccination is very safe and effective.
Immunizations can protect others you care about.
Immunization can save your family time and money.
Immunization protects future generations.
When children are not vaccinated, they are at increased risk and can spread diseases to others in their classrooms and community – including babies who are too young to be fully vaccinated, and people with weakened immune systems due to cancer and other health conditions.
Parents can find out more about the recommended immunization schedule by clicking here.
Not Just for Kids
And immunizations are not just for children. Even adults need protection against vaccine-preventable diseases. Every year, thousands of adults in the United States suffer serious health problems, are hospitalized, or even die from diseases that could have been prevented by vaccinations.
The specific vaccines adults need are determined by factors such as age, lifestyle, risk conditions, locations of travel, and previous vaccines. More information on adult vaccinations is available here. You can find information on travel vaccinations here.
Getting vaccinated is an important step we can take to protect ourselves and loved ones from vaccine-preventable diseases. Yet too many adults and children—perhaps even you—are not up to date. Your local Health Department can check to see what vaccinations you may need. Click here to find a location near you.
Have News?
Contact our PIO directly to share health news.

770.339.4260