Contact Us
Buford Center : 770.614.2401
Lawrenceville Center : 770.339.4283
Norcross Center : 770.638.5700
Newton Center : 770.786.9086
Rockdale Center : 770.785.4345
WIC Breast Pump Program
Not every mom needs a breast pump to successfully breastfeed.  However breast pumps may be necessary if your baby is unable to latch correctly, if you are going back to work or school, or if you need to be away from your baby for long periods of time.
WIC provides breast pumps to qualifying moms depending on certain criteria. ​If you are a WIC participant interested in receiving a breast pump, please contact your clinic to speak with our nutrition staff in order to see if you qualify.
For those seeking breast pumps through their insurance, The Affordable Care Act states that private insurance is to provide breast pumps to nursing mothers when possible. Check with your insurance on how to obtain a breast pump.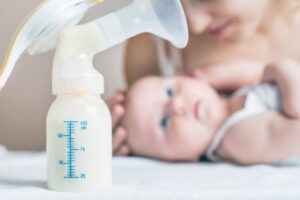 Contact Us
Buford Center : 770.614.2401
Lawrenceville Center : 770.339.4283
Norcross Center : 770.638.5700
Newton Center : 770.786.9086
Rockdale Center : 770.785.4345