Diabetes Prevention Program
Are you at risk for diabetes?
Learn more by taking CDC's prediabetes screening test. Take the test and get your score to find out your level of risk.
Diabetes Prevention Program classes are currently full. Don't miss out next time! Let us know you're interested.
If you want to be notified when future registrations open, have questions, or would like to learn about other community options, please email Sarah Grant, health educator and diabetes prevention program lifestyle coach, at sarah.grant@gnrhealth.com or call 678-230-6603.
What is the diabetes prevention program?
If you are at high risk for developing prediabetes or type 2 diabetes or have been diagnosed with prediabetes, PreventT2 diabetes prevention program can help prevent or delay type 2 diabetes.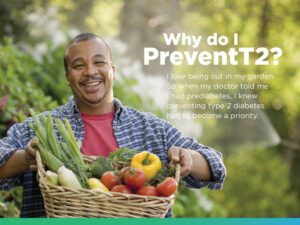 PreventT2 is a proven program of the National Diabetes Prevention Program led by the Centers for Disease Control and Prevention (CDC) that helps prevent or delay type 2 diabetes in at risk individuals. The CDC-approved curriculum is taught by a trained lifestyle coach, and the year-long program includes weekly meetings for the first 6 months followed by meetings once or twice a month for the second 6 months.
You'll get support from others as you learn new skills, lose weight, become more physically active and reduce stress. As a participant you'll also receive special incentives throughout the year to help you on your journey in preventing diabetes.
This program is at no cost to those who qualify.
You are eligible for this free program if:
You are 18 years or older and not pregnant at time of enrollment
You were not previously diagnosed with Type 1 or Type 2 diabetes
You have a Body Mass Index (BMI) over 25 (or over 23 if Asian American)
AND
You have been:
Previously diagnosed with gestational diabetes
Diagnosed with prediabetes within the past year by a blood test. Fasting blood sugar of 100-125 or A1c of 5.7 to 6.4
or have had a:
Already have diabetes? Enroll in our diabetes and nutrition education program!
What to know your risk for developing diabetes? Get screened.
Learn more about diabetes at the American Diabetes Association.