Have News?
Contact our PIO directly to share health news.

770.339.4260
Posted on November 13th, 2023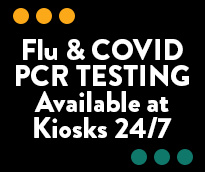 Are you ill? Worried you may have the flu or COVID-19? Do not wait to find out! The best way to know if you are sick with either is to get a PCR test. The Health Department does not offer testing inside our health centers but does provide PCR testing for COVID-19 and flu at three convenient kiosks 24 hours a day.
The kiosk is simple to use and will walk you through the steps to complete your tests. Results are typically available within 48 hours. To save time at the kiosk, you can preregister for testing at register.testandgo.com; however, preregistration is unnecessary.
Testing is at no cost to you, but insurance is billed if you have it.
COVID-19 and flu testing kiosk locations in our district:
Gwinnett
Norcross Health Center
5030 Georgia Belle Ct, Norcross, GA 30093
Rockdale
Rockdale Health Center
985 Taylor St, Conyers, GA 30012
Newton
Newton Health Center
8203 Hazelbrand Rd NE, Covington, GA 30014
COVID-19 and flu testing kiosks are available in communities across Georgia. Visit register.testandgo.com to find additional locations.
If your test is positive, contact your healthcare provider. The Health Department does not offer treatment for flu or COVID inside our health centers.
COVID and influenza testing are among the many prevention measures that protect you and others by reducing the chances of spreading illness.
Vaccination, hand washing, and good respiratory hygiene also help prevent the spread of respiratory illnesses like COVID and flu:
Frequent and thorough handwashing with soap and warm water. Alcohol-based gels are the next best thing if you don't have access to soap and water.
Cough or sneeze into the crook of your elbow or arm to help prevent the spread of germs. Remember to wash your hands.
Avoid touching your face as germs can enter the body through mucus membranes of the nose, mouth and eyes.
Stay home from work or school if you're sick. See our "Too Sick for Work" guidance to help you decide.
For more information about COVID and influenza, visit www.cdc.gov/coronavirus/2019-ncov/index.html or www.cdc.gov/flu/index.htm.
Have News?
Contact our PIO directly to share health news.

770.339.4260